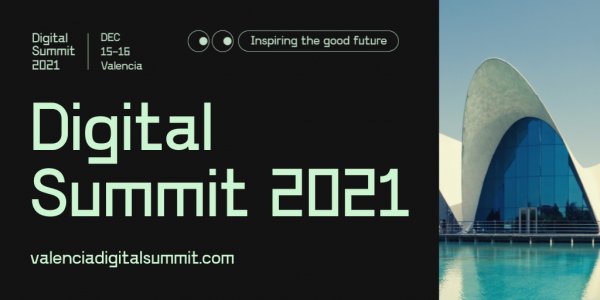 Fecha
15 Dic 2021
- 16 Dic 2021
Coste
Gratuito
Etiquetas
Distrito Digital
Valencia Digital Summit 2021
Sigue las ponencias de Digital Summit en directo aquí. 
Los próximos 15 y 16 de diciembre, tendrá lugar una nueva edición presencial del Valencia Digital Summit 2021. La conselleria de Innovación, Universidades, Ciencia y Sociedad Digital, a través de Distrito Digital, colabora con estas jornadas que se desarrollarán en la Ciudad de las Artes y las Ciencias.
Valencia Digital Summit 2021 mostrará cómo la tecnología, la innovación y la digitalización pueden cambiar, impactar y transformar cada aspecto de nuestras vidas de una manera positiva. Abordará el papel de la tecnología en los principales retos sociales y económicos a los que se enfrenta la sociedad en un futuro próximo.
Distrito Digital ofrecerá además una serie de ponencias el jueves 16 a partir de las 13h10 en el Mar Rojo Stage.
13h10. "Distrito Digital as a unique environment to harbour technological talent and International projects", por Antonio Rodes, CEO,Distrito Digital (SPTCV)
13:15h. "Open innovation to fight against Climate Change", por Ramon López, Open Innovation Manager, Suez.
13:30h. "Technological solutions for tourism companies using open innovation program", por Enrique Lancis, Innovation Project Manager en Globaldit.
13:40h. "Health and digitalisation at the global innovation" por Francesc Pons, Head of innovation en Innsomnia.